Dark Chocolate Benefits - Can chocolate improve or prevent Diabetes?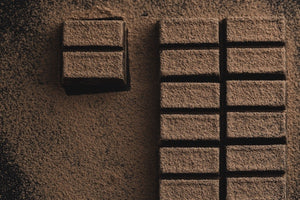 In the last decade, diabetes has been one of the ten leading causes of death in the United States. In 2014, approximately 9.3% of people in the United States had diabetes reported by the Endocrine Society "Diabetes Facts and Figures." In 2016, 1.6 million deaths were directly caused by diabetes, according to the World Health Organization (WHO). What if dark chocolate benefits these patients or those at risk for this condition? In this article, we explore recent and rigorous evidence that supports the fact that chocolate prevents diabetes.
     For those of you not familiar with the subject, Diabetes Mellitus is a chronic condition where the blood sugars are abnormally elevated. It damages the body's tissues, such as the heart, blood vessels, eyes, kidneys, and nerves. In our bodies, the pancreas must produce a hormone called insulin, which is responsible for taking the glucose (sugar) from the blood inside the cells to be used as energy. When the pancreas does not produce enough insulin or the body cannot effectively use the insulin, a person develops diabetes. The consequences that come after the diagnosis are less than optimistic.
     The good news is there are many ways to prevent diabetes, and it is a treatable condition. It takes many small and consistent changes in our daily lifestyle to make a massive impact on your overall life. These are a few things people can start doing today:
Keep physical activity as a priority, for instance, walking 30 minutes a day.

Eat the healthiest way possible, for example eating real foods (mostly plants) daily and avoiding processed foods.

Avoid a large quantity of refined sugars.

Eliminate trans (artificial) fats.

Do not smoke tobacco.
     But to all the chocolate lovers out there that are trying to take care of their health, recent medical studies have shown that dark chocolate benefits your metabolism. It seems to prevent this kind of illness or not affect it as much as you thought, so you don't have to give up on this delicious food.
     In 2012, a group of researchers tried to dispel the myth that chocolate might be associated with "Metabolic Syndrome," or "Insulin Resistance," which are medical terms for a combination of elevated blood sugars, high blood pressure, elevated cholesterol, and obesity. They asked such a question because cacao, including dark chocolate, benefits all these metabolic parameters in other investigations. In more than four thousand people in the study, there was NO association between chocolate consumption and metabolic syndrome. This data was consistent across all the groups, meaning those that consume no chocolate had a similar risk of developing metabolic syndrome than those that ate chocolate 1, 2, 3, 4, or 5 times a week. The same study showed a lower risk of developing diabetes in all the chocolate consumer groups when compared to those who did not eat chocolate. In fact, those who had chocolate more frequently had the lowest chance of getting diabetes.
     More recently, in 2017, a metanalysis, which is a statistical combination of different studies looking at the same question, proved that eating dark chocolate benefits your chances of getting diabetes. Every single group of chocolate consumers, from 1 serving per week to 10 servings per week, had a lower chance of developing diabetes mellitus. The benefits extended to eating other types of chocolate like milk and white, which were included in the food surveys in the studies. The serving size, which is very important, in these studies was approximately 30 grams. The optimal amount seems to be at least two servings per week, and there were no additional benefits beyond six portions per week. It is important to note that there were no harmful effects on diabetes by eating chocolate. Besides, this research showed a lower possibility (8 - 15% lower) of having a heart attack or a stroke if you get 2 to 6 servings of chocolate per week.
     Currently, one way of consuming dark chocolate to benefit your health is eating bean-to-bar chocolates. Like one of our newest additions to the store, the French Broad dark chocolate made with cacao from Costa Rica. It has 80% fine cacao content. It's perfect for a Sunday morning breakfast. It lets people experience a flavor of crunchy chocolate wafer cookies and tart raspberry, all of it coming from the cacao beans.
     In summary, we recommend taking advantage of all the dark chocolate benefits, in this case:
Diabetes prevention.

Lower chance of heart attacks, and

Lower possibility of strokes.
     Do you know a chocolate lover trying to improve its health? Please share this information with anyone who can receive these dark chocolate benefits. Let's spread the word about dark chocolate, health benefits, and what it means to live #TheGoodnessOfLife.
Ramón E. Martínez, MD
References
http://endocrinefacts.org/health-conditions/diabetes-2/1-overview/
https://www.who.int/news-room/fact-sheets/detail/diabetes
https://www.ncbi.nlm.nih.gov/pubmed/25126517
https://www.ncbi.nlm.nih.gov/pubmed/28671591
---
Leave a comment
Comments will be approved before showing up.