How we enjoyed a Craft Chocolate Experience in Miami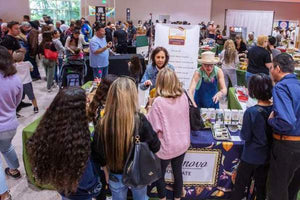 Weekends are meant to be spent enjoying #TheGoodnessOfLife, whatever that means for you. We all have our preferences, our favorite plans, or things to do, and the key is to highlight that. In my case, two of my favorite things are to spend time out in nature with my wife and kids and, of course, craft chocolate. In this article, I expand the description of Miami's best chocolate event of the year.
Some people prefer quiet plans like having their favorite breakfast on Saturday morning or turning off the alarm clock the night before to sleep in. Some others are more into sports, so they get up early to run outdoors. Others prefer to stay at home with their partner to watch a movie and chill, and some others prefer dinner and wine with friends every Friday night. It's up to you. Those are a few examples to imagine which moments mean #TheGoodnessOfLife to you.
My weekends always include an activity that is craft chocolate-related. The passion for chocolate is something that I'm very proud to say we share as a family. The kids have learned how to enjoy high-quality chocolate fully, note their aromas and flavor, and how craft chocolate benefits everyone's lives. If it were up to them, they would eat a whole bar at once. So yes, we are a dark chocolate lover family.
As I mentioned before, nature is something that I enjoy so much, especially when I'm with my family. So today, I want to recommend an enchanting place in Miami in which we were recently, and it is a hidden gem in the middle of a chaotic city. It is Fairchild Tropical Botanic Garden, a place dedicated to investigate and preserve biodiversity.
It plays a cultural role because it hosts signature festivals for Mango, Orchids, and Chocolate throughout the year, also supporting concerts, lectures, and classes by experts. This Botanical Garden is recognized as an international leader in both Florida and international conservation. As you can read on its website, Fairchild has field programs in over 20 countries right now, including support to protected areas in Madagascar and Africa. Meanwhile, all its activities and initiatives have an educational component that aims to explain and conserve the world of tropical plants.
During the last weekend of January, we had the pleasure of being part of the 14th International Chocolate Festival at the Fairchild Tropical Botanic Garden, "The Chocolate Garden."
The festival is such a phenomenal opportunity to meet chocolate lovers. Bt not only that, but craft chocolate brands that are doing an excellent job with its creations, and even new trends related to chocolate.
There were so many activities for the whole family like cinema, face painting, chocolate and cocktails tastings, talks, many of the most exquisite chocolate bars and even massages all surrounded by a vast amount of plants, trees as tall as buildings, birds tweeting and a majestic lake that reflects all the colors of the sunset.
I set up a booth that represented #TheGoodnessOfLife with a couple of comfy chairs, some of my favorite books and magazines about chocolate. I brought all my excitement to share my knowledge about the bean to bar movement. It was our third time participating in the festival, and I was able to meet again with costumers from previous years that remembered Club Chokolate. They were up to discover new craft chocolate bars and get some good "oldies."
Also, I was gladly surprised that more people inquired about the background of artisan dark chocolate. Many attendees that stopped by our booth were new costumers willing to discover new flavors and ask for good quality chocolate bars.
Denise Castronovo, the creator of Castronovo Chocolate, was there in person. She was at her own booth taking care of new customers since it was her first time participating. She displayed some chocolate bars and bonbons, some with heirloom cacaos, which have won numerous awards. Castronovo is a business model we admire because it's based on the important ecological benefit of the cacao harvest that Denise noticed. Her presence at the festival was very enriching and valuable.
Something interesting that happened is that a lot of chocolate enthusiasts we're up to taste roasted cacao beans. As expected for a bitter flavor, there were opposing opinions. Some people loved it, and some others wished the taste wasn't so strong, but what can I say, those beans hold the power of chocolate. I enjoy having some roasted cacao beans myself, especially when I need to boost my energy a little.
It was such a fantastic experience to be there and have the opportunity to share with so many people interested in high-quality chocolate and chocolate makers. That's what festivals have: a magic vibe where we are part of something bigger. We can all enjoy the pleasure of eating craft chocolate in a place that shares the same values and principles as we do.
The festival is over now, but I would like to recommend two things that I think you might like:
First, our two best-seller chocolate bars from Amano chocolate that people loved. One is made with cacao beans from the Dominican Republic and the other one from Papua New Guinea. Both were described as very aromatic and flavorful bars.
And second, if you are looking for something different to do with your family, make a trip to the Fairchild Botanic Garden. Enjoy being surrounded by majestic plants (you can also do a guided visit and learn about all the biodiversity that lives there).
The whole Club Chokolate team is excited to keep working this year to get the dark chocolate benefits to even more places. We are already looking forward to participating again in the 2021 festival. For now, I want to share with you some of the pictures from that beautiful weekend.
Ramón E. Martínez
---
Leave a comment
Comments will be approved before showing up.