The stories behind the producers of gourmet chocolate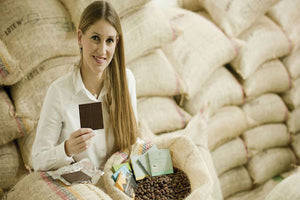 What do the Venezuelans Claudia and Mariela Franceschi, and the North Americans Denise Castronovo and her husband Jim have in common? They produce gourmet chocolate of excellent quality with cacao from recognized origins among the world's best chocolate. To tell their stories and show you what they share, I will start with the Franceschi sisters.
"Franceschi Chocolate is a unique collection of Fine and Extra Fine Chocolates elaborated with a selection of Venezuelan cocoa of Criollo and Trinitario origin, which possess a combination of aromas, textures and savors from Venezuelan lands. We are passionate promoters of the Art of the Origin Dark Chocolate.
The Franceschi Chocolate's varieties show us a fascinating trip, starting from the tree until we get to the bar. Thanks to a careful post-harvest process, we can enjoy the authentic tastes and aromas of several Venezuelan regions."1
Claudia and Mariela are responsible for elaborating the delicious and unmistakable Franceschi Chocolates, awarded in the International Chocolate Awards. Those who have enjoyed their gourmet chocolates, remember with pleasure their velvety taste and characteristic aromas. And those flavors and aromas are achieved with passion, dedication, and hard work.
The history of the Franceschi sisters is one of a Venezuelan family company that started with cacao cultivation in Paria back in 1830 (The National Park Península de Paria located in the state of Sucre in Venezuela). As Rosanna Di Turi comments in one of her reports in "Gastronomía en Venezuela"2, this is a company that emerged from deep roots. The Franceschi sisters are part of the sixth generation of a cacao lover family, dedicated to rescuing the native "Criollo" cacaos of Venezuela, besides the "Trinitario" cacaos found in the family's plantations. Without money and preparation but with a lot of determination, in 2008 Claudia and Mariela started to prepare unique gourmet chocolates.
Today, in 2018, their factory offers three lines of gourmet chocolate: the Premium (70% of the concentration of cacao from "Criollo" origin), the Fine (60% of Venezuelan cacao content "Trinitario" source with "a very high criollo genetic"), and the Extra Dark, also with Trinitario origin. The Franceschi sisters are part of a selected group of gourmet chocolate makers that go from "the tree to the bar."
There is a worldwide tendency known as bean-to-bar, but they have decided to go further: they are part of the makers elite that goes from the "tree to the bar." in the country of origin, Venezuela. They monitor every step of the production of their chocolates, from the plantation, harvesting, and post-harvest care to the packaging of the gourmet chocolate bar.  You can find two of these gourmet chocolate collections by clicking here.
María Helena Jean
(http://www.franceschichocolate.com/#chapter_1).

(gastronomiavenezuela.com.ve( (October 2013)
---
Leave a comment
Comments will be approved before showing up.