A Guide to Salt Lake City's Craft Dark Chocolate Scene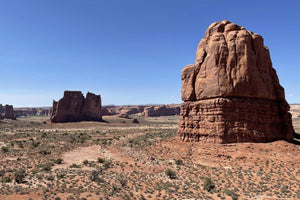 I love to travel, and over the past few years, since I've been involved with the chocolate world, every time I choose a place, cacao or chocolate sites are at the forefront. This time was no different. I picked Utah, the center of the bean-to-bar chocolate movement in the USA. No one knows why at least 5 or 6 great bean-to-bar chocolate experts/makers are in this town.  Doing some reading for this article I found a few reasons why Salt Lake City has so many bean-to-bar chocolate makers and affiliation with chocolate:
A supportive community. Utah has a strong community of chocolate lovers who are passionate about supporting local businesses. This has created a demand for high-quality, artisan chocolate, which has, in turn, attracted bean-to-bar makers to the area.

A favorable business climate. Utah has a business-friendly environment that makes it easy for entrepreneurs to start and grow their businesses. This has made the state an attractive destination for bean-to-bar makers who are looking to start their own businesses.

Weather. The dry dessert climate of Utah favors the chocolate-making process, which might be why chocolate makers have decided to establish themselves there.

More importantly, Salt Lake City has a significant Mormon population (about 50%), and culturally, they do not consume alcohol, caffeine, or tea. Therefore, they have developed a taste for chocolate tasting more than other people. They have relied on fine chocolates.  
It seems that as a result of these factors, Salt Lake City has become a hub for the bean-to-bar chocolate movement. The city has many award-winning chocolate makers, and the local chocolate scene is thriving.
Here are some of the most popular bean-to-bar chocolate makers in Salt Lake City:
Solstice Chocolate

The Chocolate Conspiracy
These chocolate makers use high-quality cacao beans and traditional methods to create delicious, handcrafted chocolate. They offer a variety of flavors and styles to choose from, so you're sure to find something you love.
I considered visiting Caputo's, one of the stores with the widest selection of craft chocolates in the USA, and Chocolate Conspiracy, Solstice, Amano, and Ritual.  I set up visits in 3 out of these 5 places, and what a delight!
First, we met with AJ Wentworth, the creator, and inspiration for The Chocolate Conspiracy (since 2009). He is also one of the founders of the Utah chocolate society. The factory, now in a different place, was 20 min drive from downtown Salt Lake City. He mentioned how he picked such an exciting name. The story was not a disappointment: it was from a yoga/meditation session where he liked the meaning of the word conspiracy, which technically is to take a breath together. Why not inspire (conspire) together with chocolate?
His background is in the culinary sciences, and he became a health coach. Years later, he realized how difficult it was to change health behaviors in people, so he looked for an alternative job. His wife, a pastry chef, and he decided on a chocolate-making business. It may be easier to convince people to consume chocolate, but better chocolate!
He uses mainly raw cacao (low temp) and sources beans from Peru directly from the farmer. It is all organic and uses honey as a sweetener. This was a challenge because the chocolate texture differed from the chocolate that uses sugar. Still, he finally made it happen, reaching a perfect soft mouthfeel.
He uses atypical combinations, such as dark chocolate with local craft beers, in his blends. He also ages his cacao liquor until "mature" and adds cacao butter as an emulsifier (from the same beans in Peru) for better texture. The honey is added later.
His vibe, well-intended attitude, and openness to share his knowledge, inspirations, and "conspiracy" were fantastic. We have his chocolate bars available for private tasting events (request one here) Looking forward to going back and getting to know the new place
Then we went to Caputo's, and even though I could not meet with owners Mat and Yelena, they introduced me to Caputo's Chocolate Czar, Luke. He took at least 2 hours to give us a private tasting after showing us the wide variety of chocolate bars available. I remember some brands that I tasted for the first time, like Fossa and Ranger chocolates. Also, the special edition "Wild Jurua" was made in collaboration with Luisa Abram to save this wild cacao from this area of the Amazon.
Caputo's might be one the best craft chocolate stores because it offers a wide variety of high-quality chocolate from around the world. The store has a knowledgeable staff, including Luke, Yelena, and Mat, who can help you choose and learn about the perfect chocolate for your taste. Caputo's also offers a variety of chocolate-related events and classes, so you can learn more about this delicious treat.
On a subsequent day, and on our way to the Dinosaur National Monument, we traveled from Salt Lake City to Heber City, where Ritual Chocolate Chocolate factory is located. I had previously coordinated the visit with Anna (co-founder and owner). I met Scott (head of sales and factory tours). His background is in acting, and his presentation, enthusiasm, and energy about real chocolate are fantastic.
While hearing the whole how-to-make chocolate process, we were given a "flight "of different drinking chocolates. These were ground chocolate of single origin (Belize, Madagascar, Mountain Blend, and Ecuador)... what an excellent way to start a chocolate-making tour and what a way to taste different chocolate flavor profiles…. No melting, no chewing, just impregnating your mouth with this precious liquid... the food of the gods.
He described, with beautiful board images in the tasting room background, each step of the chocolate-making: roasting, winnowing (the "dust" from cacao bean husk is donated to local farms for growing crops), grinding for 3-5 hours aiming to get the chocolate particle size to 300 microns, roll mill with an old (but refurbished) press (6 times) to get to 9-13 microns, conching (for 3-5 days to obtain the best flavor for each bean) in the antique machine from Toblerone that Anna and Rob got their hands on, blocks for aging, tempering, molding, and then hand-wrapping in compostable material. They plan to be zero carbon emissions, 100% zero waste, and 100% solar-powered shortly.
We tasted two unique combinations of dark chocolate and inclusions: pine nuts, locally and naturally grown in Utah, with "local flavor," very creamy…. Unexpectedly, I used to enjoy pine nuts in a salty dish, but I was pleasantly surprised by it. This dark chocolate bar is 55% cacao, 30% sugar, and 15% pine nuts. Then we tasted the honeycomb chocolate toffee bar, made with honey from the beehive state… crunchy, chewy, sweet… not the typical honey-sweetened dark chocolate, but a 75% dark chocolate bar with some sugar to highlight the cacao flavors and caramelized honey inclusions. It is important to note that they provide the local honey growers with wildflowers seeds to keep the process going.
After this fantastic tour and getting to know this state-of-the-art chocolate factory in a beautiful landscape, we were en route to Dinosaur National Monument, about 3 hours away. Scott recommended we take the mountain route instead of the highway, and what an amazing recommendation. It was beautiful scenery, mountain tops with snow in June, flowers blooming, fresh and cold to enjoy some of the chocolate we had just purchased.
What a delightful way to round out a vacation, meeting people who are passionate about their craft and doing it the right way. These chocolate makers are using local teams to preserve a superfood: cacao. They are also committed to sustainability and social responsibility, using zero-emission renewable energy and direct trade to improve the lives of cacao growers.
I had a similar experience at each of the chocolate makers I visited in the past, including Castronovo, XocolAtl, Dandelion, and French Broad. Clearly, these businesses are built on a foundation of care, openness, collaboration, and environmental and social consciousness.
I am grateful to have had the opportunity to learn more about these chocolate makers and their commitment to making a difference in the world. Seeing how people use their talents and resources to create a more sustainable and equitable future is inspiring.
Bye, and up to the next cacao/chocolate trip.
---
Leave a comment
Comments will be approved before showing up.